The Hill of Lonely Cairns, Scotland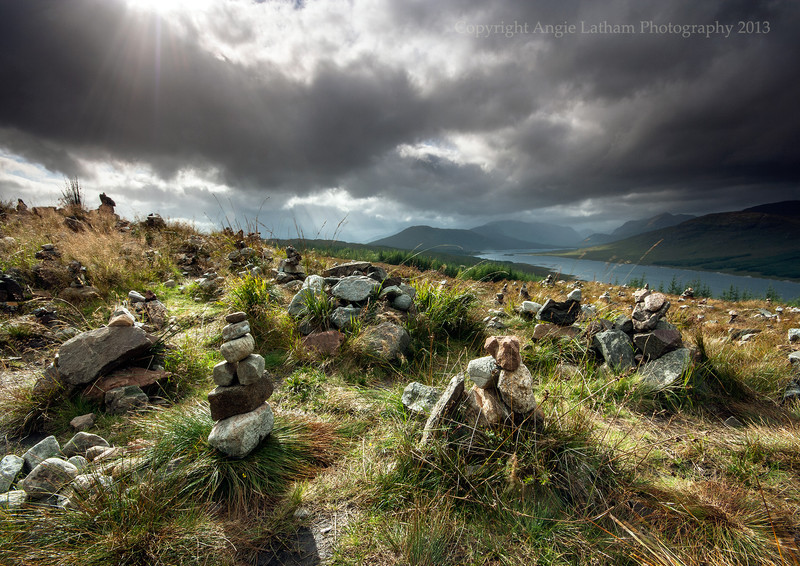 Not exactly an ancient site but more a modern place of meditation, prayer and homage to loved ones. Cairns and messages are placed on the hillside, most of which are in remembrance to those who have passed away. It may be that the site was long held as sacred by earlier people.

The definition of a cairn is a group of stones that have been placed on top of one another to form a mound. This is a man made constructed by either a singular person or a group of people. The term is derived from the Scottish Gaelic word "carn".

This particular word has a far wider definition in that it can be used in reference to a multitude of different hills or stone piles formed by man or naturally. You can normally find a cairn or a pile of stones near waterways, mountaintops, moorlands and in uplands. This is a tradition that has existed within Scotland for many centuries. Carrying a stone from the bottom of the valley to be placed on top of an existing cairn has become part of Scottish folklore and custom. Over time, cairns have grown into large mounds and are an intriguing and curious sight. An ancient Scottish blessing, "Cuiridh mi clach air do charn" means "I will put a stone on your cairn".
Western Highlands of Scotland, Between Fort William and Skye
| | |
| --- | --- |
| | |